Reacties
Geef je commentaar op:
My Little DrummerBot
Yay! finally took the time to finish a little Arduino project.
It's a another bot, more specific: a web controlled drummerbot!
Yes yes, the same old trick: web interfaces to physical objects: Me LUVS them.
Give me an Arduino and a browser and I'll build you your rainbow

Hey, I feel a song comming up!


Tap the drum pattern on your phone and this little bot will rock it!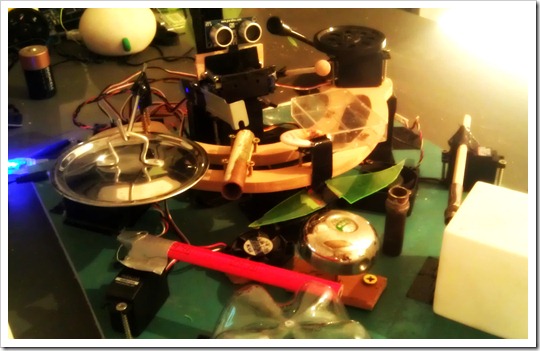 You control it like most drum computers: you draw the beats on a pattern of sixteen dots, perfectly suited for generic 4/4 rhythms.
There a 8 lines, each controlling 1 servo motor.
Most of the servo's have a percussion item both on the left and the right, that's why the pattern buttons have 3 states: off, left, right.
 That makes 14 distinct percussion sounds for the drummerbot.
The pattern in the webbrowser is packed into a string, which get send to the Arduino via HTTP.
You can use a wifi module and a http server on the Arduino, or you can use another device attached to the Arduino through a comm port.
The Arduino receives the string, unpacks it back to a pattern and simple loops over the steps controlling each servo.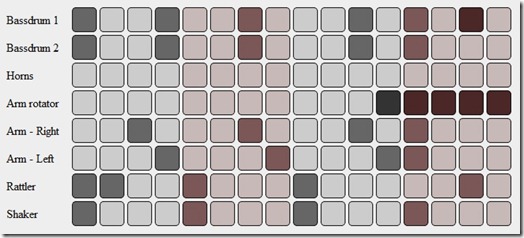 the "DrummerBot Step Seqeuncer V 0.01 very-much-alpha" page is here

You can also download the Arduino code here.
I must admit: the drums sound a bit dry without amplification though.
I recorded everything into Ableton Live and did the final mix there. (Shocking, right? The videoclip is actually NOT a live performance :-) )

I'm specifically fond of the "Horns"
They are 2 little fans with a servo pushing a piece of plastic against the blades.
A hell of a noise but when you add heaps of fuzz, chorus and overdrive effects they are pretty convincing.
I call them F*CK-YEAH-HORNS
If you want to jam along yourself: hop over this saturday to Barcamp Antwerpen, where I'll be giving a presentation with/about the bot.

Let's play!