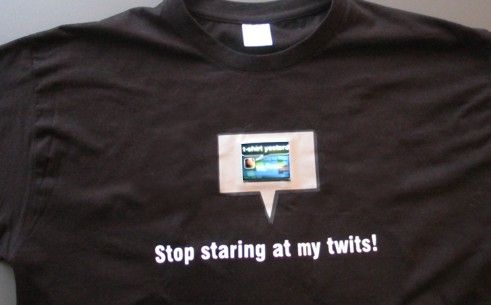 Yesterday I gave a demo of my TWEET-SHIRT at Barcamp Gent.
A tweetshirt is a web connected t-shirt with an embedded display that can be configured through a web interface to diplay a.o. live Twitter feeds, Flickr pictures, custom texts ....
Every t-shirt has a web-interface that allows one to configure what is shown on the display.
www.tweetshirt.net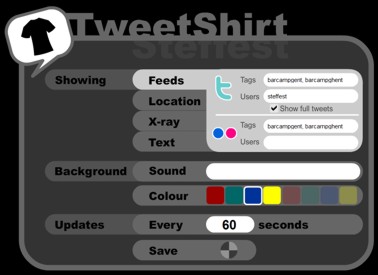 Big fun!
The demo was done with a prototype I just finished the day before, pieced together with old cellphone parts, a 2,5 inch video display and lots of duct tape.
It still has some design flaws, mainly the heat produced by the display (it's comfortable the first 10 minutes but it actually gets VERY hot).
Also the battery drain is excessive: I walked around fully wired with a 9-volt battery in my pocket and used about 4 of them during 1 day.

It's a concept, but it's a concept I want to take further so I gues I'm on the lookout for hardware partners or other interested partners to get this thing to a finished wearable product.
Thanks bnox for spreading !
I started the project as a real-life case for the use of Flash (Lite) as development platform for mobile devices. So everything (including the webinterface) is written in flash lite (meaning you can also control your T-shirt with any flash-lite enabled mobile phone)
Everying runs both on the mobile device as in standard websites, so you can just as easily put the widget on your site as some form of twitter/flickr display.


Below are the slides of my presentation. (also made in Flash lite - just click to proceed)


These kind of ideas have a "networked" way of growing, So thanks to Dorien for the inspiration, Clopin for the slogan and also maeseele for a very cool add-on idea: (the X-ray: connect a mini-camera at the back of the T-shirt, so you'd have a see-through effect when looking at the front display.)
Tags: Gadgets, in English, Mobile, Programming, Twitter, Web 2.0
Geef je reactie (3)