Je bekijkt alle berichten met de tag: "Scripting".
Bekijk terug alle berichten.
Deze week was ik te gast bij de Tech45 podcast - als je wil herbeluisteren kan dat hier .
Het was naar aanleiding van deze blogpost en Jan's reactie erop.

Mijn achterliggende stelling was dat (ik hoop dat) al die iPad en iPhone en Android en wat-nog-al-niet-apps een tijdelijke hype is.
Begrijp me niet verkeerd, mobile gaat super hard ontploffen, maar qua applicaties zal het gaan zoals op de grote PC's: eerst was alles een lokaal programma, en toen evolueerde het zodat je bijna alles in je browser kan doen.
Natuurlijk zullen er steeds toepassingen blijven die op je PC lokaal moeten staan, zoals tekenprogramma's of games bijvoorbeeld, maar de tendens is wel duidelijk: software is steeds meer online. Hup naar de cloud!
Voor al die mobiele toestellen zoals de iPad en je telefoon zal dat hetzelfde zijn: de "App" zal na verloop van tijd naar "browser" evolueren.
Nu is het nog even super hip om een iPad app te lanceren, maar dat slijt er wel af.
De grote Apple baas blaast dat de App HET opperste goed is voor de gebruiker, maar dat zegt hij natuurlijk vooral omdat hijzelf met zijn hebberige vingers tussen de Appverkoop zit en bij de browser niet.

Vooral "media consumeren", dat is iets waar de browser goed in is: lezen, filmpjes kijken, foto's bekijken ...
Kun je het je inbeelden dat "De Standaard" een Mac applicatie zou lanceren speciaal voor de krant te lezen? natuurlijk niet, daar heb je een website voor.
Kun je het je inbeelden dat Telenet een Windows applicatie zou lanceren speciaal om TV te kijken? natuurlijk niet, ook streaming video loopt veelal via de browser.
Waarom ze dat voor iPad wel doen is me een raadsel (niet echt natuurlijk, vanuit technisch oogpunt)
Die apps zijn niet meer dan veredelde browsers die ingesteld zijn om maar 1 "website" te tonen.
Geen woorden maar daden!
Laat ons bijvoorbeeld de Telenet Yelo applicatie eens bekijken.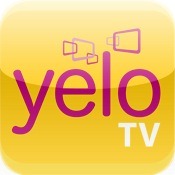 Maar eh .. hoe doe je dat eigenlijk?
De iPad is via je wifi netwerk verbonden met het internet.
Alle gegevens passeren naar je wifi router en gaan van daar verder.
Als je precies wil weten wat een applicatie allemaal online gaat zoeken (en terugkrijgt), zou je eigenlijk in je router moeten gaan afluisteren.

Gelukkig bestaat er ook een truukje om die "router" iets gemakkelijker te maken.
Elke PC die zowel een ethernet als wifi heeft, kan ook als wifi router dienst doen.
Erg gemakelijk en een gratis programma zoals Virual Router maakt het in 1 klik waar.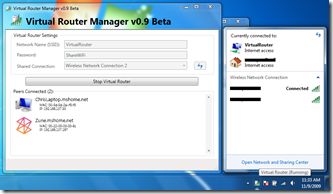 Even op de startknop klikken en er is een nieuwe draadloos netwerk in de lucht waar je bijvoorbeeld met je iPad op kan connecteren.
Je PC doet nu dienst als router en geeft alle gegevens dia van je draadloze toestellen komen door.

Fijn, maar hoe doe ik daar nu iets mee.
Daar komt de FANTASTISCHE ONGELOOFLIJKE FENOMENALE tool Wireshark om de hoek kijken.
Wireshark is het lievelingetje van elke computer netwerk mens - het zwitsers zakmes van de netwerken.
Wireshark nestelt zich in je netwerk en bekijkt alles wat er passeert. Met een druk op de "record" knop, begint hij alle gegevens bij te houden zodat je later rustig kunt bekijken wat er gebeurd is op je netwerk.
Elke website die je opent, elke verbinding met het internet die elk programma maakt - ALLES - wordt zo gelogd.
Wireshark biedt bovendien nog veel middelen om later ook nog wijs te worden uit die enorme hoop gegevens.
Mooi! Laat ons dan eens kijken wat die Telenet Yelo app zo allemaal online gaat zoeken.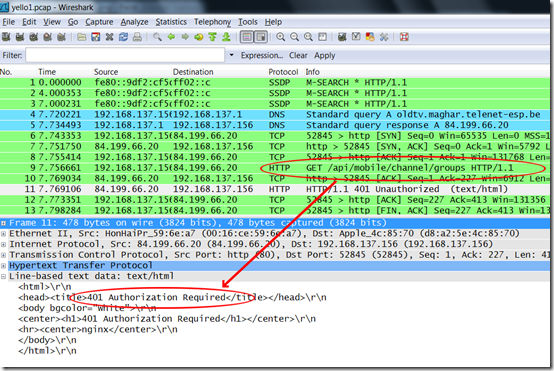 Je ziet hier dat de App eerst http://oldtv.maghar.telenet-esp.be/ gaat opzoeken en daar naar http://oldtv.maghar.telenet-esp.be/api/mobile/channel/groups gaat kijken.
Ha! een API ... dat is altijd leuk.
Helaas krijg je een loginscherm voorgeschoteld als je op bovenstaande link klikt.
Maar die applicatie geraakt er wel op, dus nog even verder kijken.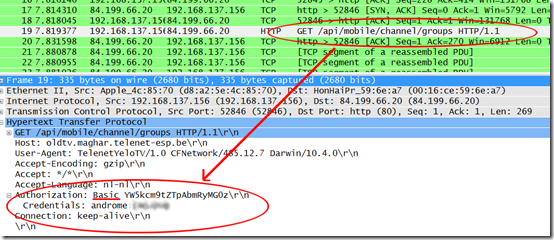 Wireshark laat ook de inhoud van elk verzoek zien, en hier zien we dat de login gevens als "Basic Authorization" worden verstuurd.
Dit wil zeggen dat login en paswoord als leesbare tekst worden verstuurd en inderdaad: we kunnen dat hier lezen.
voor de : staat de login, erachter het paswoord.
de login is "androme" en het paswoord ... heb ik even vaag gemaakt, dat zul je zelf even moeten opzoeken.

Dat werkt.
We kunnen nu via de browser zelf opvragen wat de Yelo app achter de schermen doet.
En wij krijgen zaken te zien als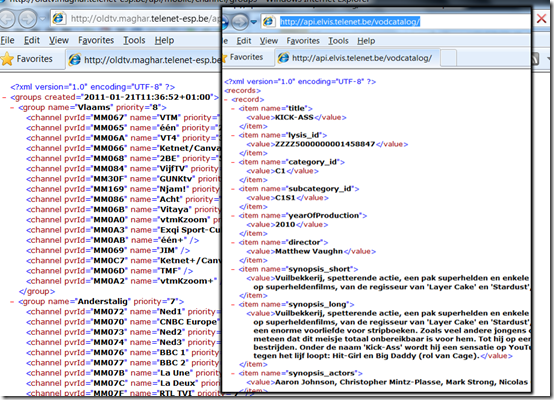 Schone propere XML waarvan een developer blij wordt. Daar kunnen we mee aan de slag.

Wat verder snuffelend leren we dat hun API blijkbaar "ELVIS" heet, de meeste aanvragen gaan naar

http://api.elvis.telenet.be/livechannels/ en zo van die dingen.

Dit zijn allemaal "publieke" gegevens die voor iedereen hetzelfde zijn: de TV-gids, de info van elke programma, welke kanalen in welke categorie zitten ...

de Telenet Yelo app kan echter ook je eigen opnames instellen, en daarvoor heeft het je login nodig, die de applicatie ook naar de telenet servers zal moeten sturen.

Oeps! Wat zien we daar!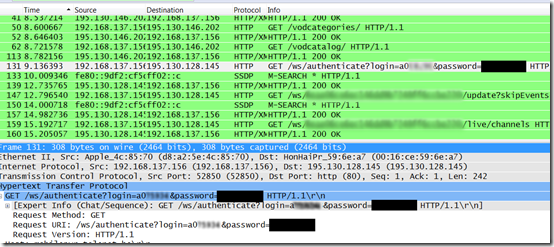 De applicatie gaat aankloppen bij http://mobilepvr.telenet.be/ws/authenticate
en verstuurd mijn login en wachtwoord niet eens als "basic authentication" maar gewoon hopla in de URL ...
Dat is wel niet zo netjes hé Telenet.
Draadloze netwerken stoppen niet bij de buitenmuur van je huis. Dan maar hopen dat je buurman geen al te grote GEEK is en aan het meeluisteren is ...

Ik poste dit ook op twitter en ik moet zeggen dat Telenet goed luistert en supersnel was met hun reactie.
Dit gaat in de volgende versie opgelost zijn. Blijkbaar was Telenet wat gehaast om deze app uit te brengen hebben ze hier en daar wat hoekjes afgesneden.

Update: Plots staat er vandaag een artikel over in de standaard:
Ze vermelden "Een Twitter-gebruiker signaleerde onze redactie dat de login-gegevens in de Yelo-app niet beveiligd zijn"
Ik hoop eigenlijk niet dat ik die twittergebruiker was :-)
de Standaard maakt er hier een opgeklopt verhaal van.
Je wil eigenlijk niet weten hoeveel applicaties en websites de logingegevens op soortgelijke manier onversleuteld versturen en ach ... zooooooo'n groot probleem is dat nu ook weer niet, het is gewoon een beetje slordig van Telenet, meer niet, en ze zullen dat wel rechtzetten ... geen reden tot paniek ... nothing to see, move along.

en along moven doen we door te komen waar we willen zijn:





We komen bij de URL's waar de livestreams van hun TV kanalen opstaan.
Het zijn .m3u8 bestanden, wat eigenlijk een soort playlists zijn van allemaal hele korte video bestandjes die door de player naadeloos aan elkaar worden geplakt.
"HTTP live streaming" noemen ze dat bij Apple - en jawel - eigenlijk is dat best een goede uitvinding.

Als je deze URL neemt en je plakt die in een browser (op iPhone of iPad) , opent de standaard mediaplayer zich en speelt de video af.

Voor de films die je kunt huren is dat hetzelfde.

Alles wat je in de Yelo applicatie ziet, past prima binnen een browser.
Maar ja, "TV kijken op je iPad" klinkt nu eenmaal veel cooler dan "TV kijken in je browser" en is het ingegeven door hippe marketing om nu te kiezen voor de App.
Het lijkt me echter niet meer dan logisch dat Telenet op den duur deze functionaliteit mee in hun online www.tv.be en m.tv.be aanbod stopt zodat het ineens overal en op elk toestel werkt.
Voor Android en andere toestellen gaan ze enkel een ander formaat videostream aan moeten bieden, maar dat is geen struikelblok.
En als Telenet dat niet doet ... tja, dan zullen we het zelf moeten maken, natuurlijk :-)

Mocht je morgen naar Barcamp VRT Brussel komen, dan zal ik je graag mijn eerste opzet daarvan laten zien.
Tags: in 't Nederlands, Programming, Scripting
Geef je reactie (6)