Reacties


Can't wait for Saturday.


you are on italian giornalettismo.com


Awesome! Can you post the .apk for the Android app?


Hello,
did you already look at Qt? It could potentially save you a lot of effort rewriting!

Send me an email if you need help getting started!

All the best
Tam Hanna


Woah!


is that a touch pro?

what funcion does it have on your guatar thingy?

also any chance of a look at the c#source?


@caddy - the Touch Pro is running Pocket Stompbox, providing the reverb, delay and overdrive for the voice. that's not written by me, it's from www.4pockets.com


hideho stef, gave yer a mention here: http://uzine.posterous.com/mobile-phone-keytar


Holy hell, that's awesome!


Lol, only a man with to much free time woud make things like this. Great to see there are people with to much time!


Wow an amazing thingemagin! :D I play guitar, alot and i love this thing! :D


Wow, dat is wel de creatiefste gitaar die ik tot nu toe gezien heb. Ik ben ook wel benieuwd wat de apple en android fanboys er van zullen zeggen.



Geef je commentaar op:
Cracklin Rosie on a Whole Lotta Mobile Phones


Who said iPhone OS, Android and Windows Mobile don't play well together?

Music apps are a really cool type of mobile application, they let you you unleash your musical creativity wherever you are and are perfect to jot down a quick idea or to jam along.
For years one of my favorite pastimes on the train was to do some retro musictracking with the brilliant Milkytracker, but this time I needed something more.
It turned out to be somewhat geeky, even for my standards :-)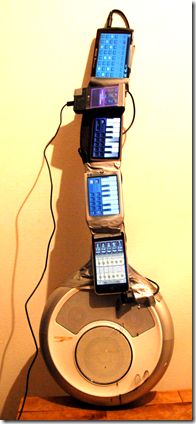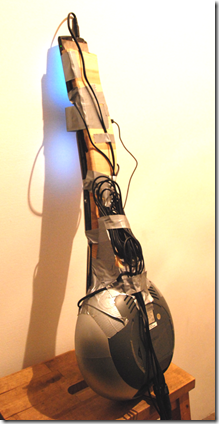 The Phone Guitar is born out of a presentation I'm going to do next Saturday on MobileCampBrussels about mobile cross development.
To put my money where my mouth is, I decided to create the same mobile app - a small piano/drum sequencer thing - on 3 mobile platforms: Android, Windows Mobile and iPhone OS.
As a developer I didn't quite succeed: audio latency is a b*tch and building the app from the same source proved to be possible but unusable, so I ended up writing it three times: in java for android, in C# for windows mobile and in Objective-C for iPhone. More on that later, but boy did I have fun playing with it :-)
To play them all at once I just taped them on a piece of wood together with a battery powered speaker.
Add lots of audio cables and TADAAA: a very playable guitar shaped instrument that makes a hell of a noise :-)
I added Pocket Stompbox, a virtual amp with lots of great real time effects and of course the FANTASTIC iShred app from Frontierdesign

In screenshots, the setup looks like this










Instant gratification! Rock on!!!