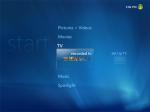 After a few years of tinkering with my own custom breed media center software I finaly gave up on the DIY-concept, mostly because I could not get the TV-recording/transcoding stuff to work as it should.
Especially the Electronic program guides gave me lots of trouble.
So ... of to the store to buy one of those "windows media center pc's
I came home with a
Acer Aspire Idea 500
and ...
WOOOHOOOHOOOOHOOOOW !!!
Sometimes a developer has to crawl out of his hole - spend some money - and enjoy the experience instead of trying to build everything himself :-)
I installed the XP media center edition some years ago and ditched it because it didn't work well with my hardware back then, but with dedicated media hardware like this - with all the ins and out you can imagine - it simply rocks!
I'm totally impressed ! Wow - this adds so many multiple dimensions to "watching tv" that I can't describe it! and it's still so slick and super easy to use.
Hats of (again) to Microsoft who made it very expendable with a well documented API and the ability the extend the software -and call the API- through standard HTML/javascript applications.
There are so many cool addons that you don't have time to watch TV anymore! like
RSS-readers
,
Youtube-viewers
,
Game-frontends
,
Remote control & streaming solutions
,
integrated DVD-rippers
, and ... and ... and ...
and since it so easy expandable, it's a breeze to integrate it with my current setup.
The only thing missing is a built-in http server, for
1: remote controlability from other programs
2: remote controlability from any web enabled device.
This article will point me in the right direction to develop a plugin that makes media center behave like winamp in regard to controling it by sending WM_COPYDATA messages.
Sounds like a good plan: that way I can just swap Winamp and Media Center around as output software.
Dang!
The Acer doesn't have a serial port - so I can't connect my X10 controller ... hmmm ...
Geef je reactie (0)