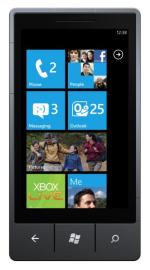 Soooo... Windows phone 7 is released.
Finally!

If you're already sick of the hype you can skip this because: yes! I have an opinion. :-)

Monday I went to the Belgian launch party at the Microsoft headquarters in Brussels.
Lots of interest, big crowd, but also a very hostile crowd ... I think some of them just came for some childish Microsoft bashing and the free food.
Come on guys, give them SOME credit, At least they had the balls to start over from scratch and come up with something "new", not easy these days when everything has been tried and patented.

And new it is! Fresh even.
The interface with the "living tiles" really is very nice, i think it's the best interface I've seen on a mobile device yet.
Well done.
I predict it's going to be a very influential interface design that will get copied a lot, even on website interfaces and such.

Thank god there where some hands on demo phones, the LG Optimus 7 And the Samsung Omnia 7.
Damn! Those Samsung Super AMOLED screens are gorgeous, especially when they're 4 inch big.
Everything feels very snappy and well integrated.
The LG had a DLNA server on board, also very well integrated allowing you to select a "play to" option with every media file you find, so you can for example select your big ass tv as a display target and just throw images and video to it, straight from your phone. Yes, like apples airplay, but better: using a very broad accepted standard that exists for many years already and that is supported by most high end media stuff.

On the software side everything MS is there and - again - very well integrated.
Office mobile on WP7 looks and feels great, with the new Word mobile arguably the best rich text editor on a mobile phone. Bing maps is there, Bing search, MSN chat, hotmail and exchange integration, live calendars, skydrive support ... The whole shabang.

But ... Will it be enough?
IOS and Android already have a HUGE head start and windows phone 7 clearly is a first version: there are still severe gaps in functionality : no copy-paste, no HTML 5 browser, no flash and most importantly: very very few third party apps ...
It seems at the moment you're only covered if you fully use the Microsoft products as other parties are barely there.
Instead of trying to bury the competition, why not fully embrace them?
Of course Microsoft has very solid developers tools - arguably the best out there ( i said ARGUABLY !)
They already have a vast developers user base and the "phone development" version of their visual studio suite is free to download, but still ...

In the end, there is little to be smug about: they have made some daring design and developers decisions and sticked to it. No more "fish nor flesh" product line but a clear fresh vision.
The hardware partners too have delivered some great phones.
What they need now is a fast update cycle and some decent developer incentive programs to quickly fill up their app marketplace.

Will I buy one? No.
Will they convert Apple or Android fanboys? No.
Will they sell a lot of phones? Probably not
But at the very least they now have a valid entry in the smartphone market for new buyers, making it clear to the competition that they have to keep innovating to keep their lead.

To Microsoft: well done, now keep your momentum and go create windows phone 7.5
Tags: Gadgets, in English, Mobile
Geef je reactie (6)