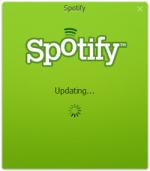 Streaming music is the way to go - it's as simple as that.
Replace your multigigabyte storage with a decent mobile always-on internet connection and suddenly the entire world fits inside your pocket.
I totally adore Spotify and it was driving me crazy I couldn't get it on my mobile because as Spotify isn't available in Belgium yet, you can't buy a premium account here to unlock the mobile application.
Of course the desktop app works fine on my Viliv s5 - which is also pretty mobile, but still ...
My own attempts to stream Spotify using my Spotify lib as remote control and VLC to stream my desktop audio to my mobile worked as proof of concept but the experience was less then ideal.
Sooo: today I finally managed to get myself a Spotify premium account and the key was Spotify's addition of Paypal as a method of payment.
Here are the steps to get your very own.
You can only use a paypal account from the same country as you're buying a premium account so go to http://www.paypal.co.uk and create a new paypal account.
Fill in some bogus but valid UK address and bank details
You can't use your Paypal balance to pay for Spotify as this is a monthly subscription, so you'll have to add a credit card. If you already used your credit card for your main paypal account, you'll have to use a second one or remove the card from your main account (that's quite a hassle, no ... probably the biggest hurdle?)
You'll have to validate your card: paypal will charge it with 1.5 euro and you have to enter the transaction code which will appear on your credit card transcripts from your bank. The good (but weird) part is that Paypal will validate your card, even if you entered a fake name an UK address.
After validation, you get a refund for the 1.5 euro.
Once your card is validated, log into your Spotify account - using a UK proxy if needed - and buy a premium account with your UK paypal.
That's it, you now have an add-free high-quality-streaming Spotify that you can use on your mobile too.
Their mobile app for Android (which you can download from m.spotify.com) is pretty sweet!
Their 14-days limit to use Spotify from "abroad" is now lifted too, so you can shelve your UK proxy tricks for the next UK only app.

Gosh, that must be the most trouble I ever went through to be able to BUY something ... jeez ...
If Spotify or Paypal ever decide I'm a fraud and cancel my account ... oh well, so be it - at least I had the fun and satisfaction to get what i wanted :-)
Tags: in English, Mobile, Web 2.0
Geef je reactie (4)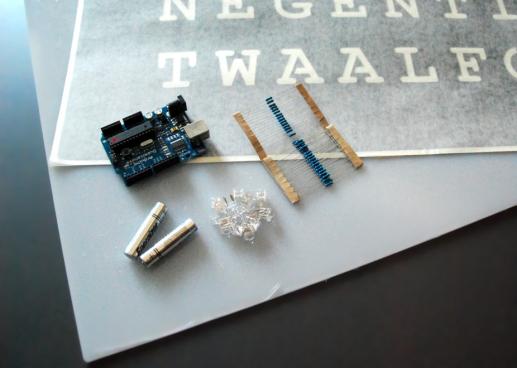 Bon, alle onderdelen om de woordklok te maken zijn aanwezig.
het eerste prototype zal in plexiglas zijn. Dat is gemakkelijk te verwerken en niet te duur.
De klok gaat 75 cm op 75 cm worden. (en ongeveer 2 cm diep)
Het plan is om als alles werkt de plexi frontplaat te vervangen door eentje in staal of alluminium, tenminste, als ik een betaalbare leverancier vindt.
Er is nog 1 belangrijk ingrediënt dat ik mis: de nodige tijd om het te maken ...
Gelukkig schijnt tijd vanzelf te komen - laat ons hopen dat ie dan rijp is.
Tags: Arduino, in 't Nederlands, Tinkering
Geef je reactie (85)
I'm showing (off) the Archos 5 Android tablet with a bluetooth keyboard and mouse, running remote desktop.

I really REALLY love this device.
It still is a bit unstable but let's hope some firmware update will fix that.

The only thing missing is - maybe - integrated 3G - or maybe not: tethering with your phone works fine and swapping sim-cards all the time is not something you want to keep on doing.

It doesn't have the Android Market but there are heaps of other places you can find software for it.
(unlike certain other devices you have a choice)
You can browse the web for .apk files of course, but there are also these dedicated Android open appstores running on your device
Besides those you have the web based stores like handango and Mobihand
On Cyrket you can browser the Android market through any webbrowser and the fabulous xda-developers also has a very interesting android section, mainly targeted towards the HTC models
(And if you happen to have a usenet account, you already know you can have all you can eat there too)

Next up for me: firing-up eclipse and start poking around with the Android SDK
Tags: Gadgets, in English, Mobile, Video
Geef je reactie (7)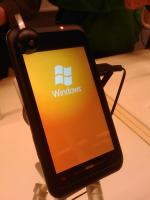 Sooo! Today is the day that Microsoft presented it's new(ish) mobile OS: Windows mobile 6.5.
It's about time Microsoft is putting some effort into it's mobile OS: Windows Mobile is trashed like mad the past years and even Steve Ballmer seems to admit they dropped the ball big time.
And again: most people seems to think of today's release as whip cream on a turd (it's still a turd) - but that's too harsh ...
I happen to love Windows Mobile.
To put it simply - you can do whatever you want on it and the very mature development tools of Microsoft make it very easy to create your own software for it.
Don't like the how it looks? Install some software that makes it pretty!
If you don't find it finger friendly enough? Install some software that makes it finger friendly!
Even more important: it runs on whatever type of device you choose: want a keyboard? no keyboard but a touchscreen? both? flip-phone? slide-phone? candybar-phone? small to fit in any pocket or rather a huge screen for quality internet browsing? Take your pick
That's called freedom of choice, something other mobile operating systems severely lack ...

That also means that the successful windows mobile phones like the HTC Touch series are not successful because of Windows Mobile, but because companies like HTC are doing an incredible job of creating slick and highly functional hardware AND software user interfaces on top of it.
Have you seen the new TouchFlo 3D interface of the HTC Touch Pro 2 and the HTC HD2?
Naaaaaaaissss!! And the standard windows interface is nowhere to be seen if you choose it not to be.
The next person who claims you still need a stylus to operate a windows phone clearly doesn't know what he's talking about and has never tried this phone (but again, if you choose to use a stylus, you can :-) )
Windows mobile is also rebranded to "Windows phone" and a slew of new models were announced.
Is it just me or is the mobile phone business STILL the fastest growing sector in tech?
It's unbelievable how the specs of the newly announced models evolve: Fast processor, big touchscreens, multimegapixel camera's, some even with optical zoom, fast internet access...
I had some hands-on with the Toshiba TG01 (picture above) and man ... what an amazingly cool device!
The gap between smartphones and small netbooks is getting smaller as most smartphones now can do about anything a notebook can.
That's why in my opinion the "Windows Phone" rebrand doesn't make sense ... does this mean it will only run on phones?
One might argue that the gap between small PC's and mobile phones doesn't even exist anymore (e.g. the viliv s5 or an oqo running a full windows has about the same screen then the HTC HD2, which is running windows phone) so why not running a mobile OS on a non-phone mobile device? (or running windows XP on a phone?)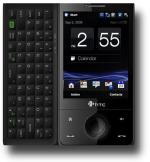 And now for the best news: You don't have to wait or buy a new phone to try out all these cool new features: you can have them right now, for free, on your current windows mobile device.
That magic is made possible by the extra-ordinary people at XDA-developers

Let's say it with me "X.D.A D.E.V.E.L.O.P.E.R.S I.S. A.M.A.Z.I.N.G" :

It's a forum of mobile tech enthusiasts who really push the limits of your device by porting the new features of the future phones to current models, and who integrate the latest beta builds of OS and interface software into 1 gorgeous package.
Windows mobile 6.5 roms are floating around there for several months now, and it seems that new HTC Touchflo interfaces are backported on a daily basis.
My favourite one is the "Energy rom" - I use the one from this thread. (It's running winmo 6.5 with Manilla 2.1)
It's a bit hard to tell what feature is WinMo6.5 and what is added the Touchflo interface, but the device is running much much faster and smoother then before and it looks absolutely gorgeous!

Is it legal to install a custom windows rom on your phone you download for free?
Probably not, but it's my guess that Microsoft is pretty damn happy with the existence of xda-developers: it's thanks to them that the "powerusers" find what they're looking for on a phone, so in a sense they do as much to keep the windows mobile OS relevant then handset manufacturers like HTC.
One word of warning though: if you decide to install a custom build on your phone, make sure you read and READ AGAIN all guides and warnings - especially if you flash a phone for the first time.
If you're not careful you risk trashing your phone beyond repair, but if you follow the steps you'll end up with the best (or at least most feature rich) mobile experience available today.
Tags: in English, Mobile
Geef je reactie (0)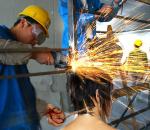 Google weet echt ALLES over je! er is geen ontsnappen aan.

Zo ben je op zoek naar een lasersnijder in je buurt die een ontwerp in metaal kan snijden en je stuit op "Laswerken Eric" die o.a. aan plasmabranden en snijbranden doet.
Je zoekt even op waar het adres juist is, en dan vertelt Google je er meteen bij dat meneer Akkermans ook een dameskapper is met op hetzelfde adres een dameskapsalon Andra.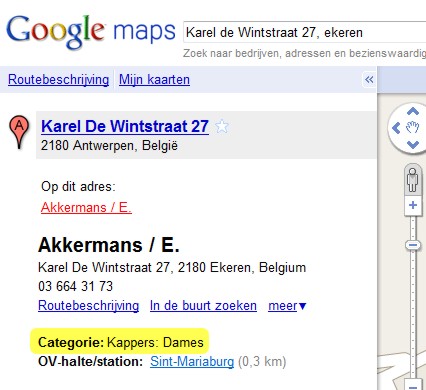 Wauw, snijbranden en het kappen van dames combineren: wat een durver!
(oh, en hij kan ook je huis tegen inbraak beveiligen, what a guy ! Ik ga er van de week eens langs.)
Tags: in 't Nederlands, Pulp
Geef je reactie (0)
I had written a whole rant (dutch) about the big digital TV dilemma.
Man, that was boring, so you can be glad I banned it to the archive

Instead I crafted this highly objective chart of the big question: Telenet or Belgacom?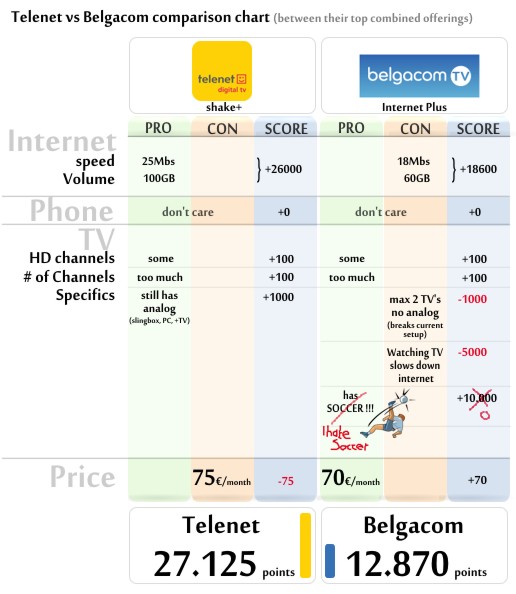 a clear victory for Telenet. Hooray! (can you tell I'm a little internet focused?)
Enter the Telenet guys!
But man ... what a huge disappointment, I don't know who created their digicorder user interface but it's bad ... really bad.
Let's compare it with our TV experience before: a windows media center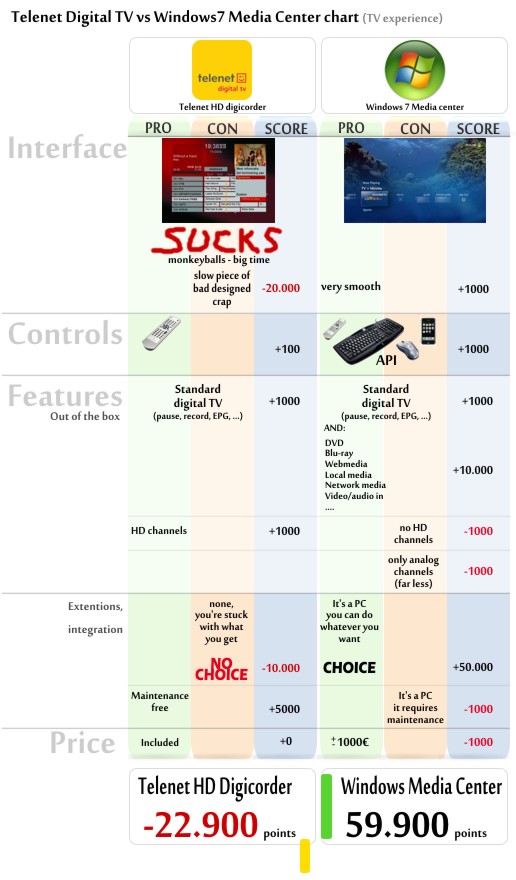 Wow! bad points for the digicorder ...
Solution: Connect the video out from the digicorder to the video in of the mediacenter, attach a IR-blaster between the two so you can control the digicorder from the mediacenter and voila!
voila? hmmm, as the digital signal is converted to analog and back to digital, there's some serious quality loss, so you can forget about the HD ... also the program guide is flaky because you can't have AND the EPG for the analog channels AND the EPG for the digicorder in the same interface ...
Here's the comparison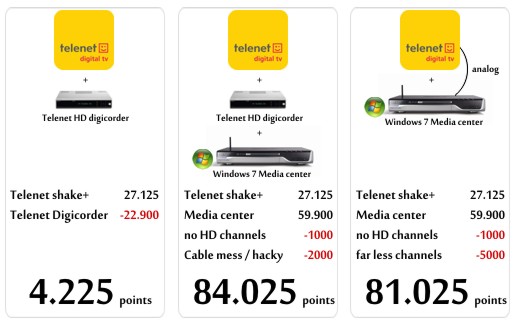 Is the middle "I want it all" solution even possible without losing your sanity? I don't know, but I do know this: I'll be damned if I let Telenet (or Belgacom for that matter) lock me in their proprietary controlled TV experience.
If any other geek has figured out a better TV solution, please DO tell :-)
Tags: in English, Media center
Geef je reactie (9)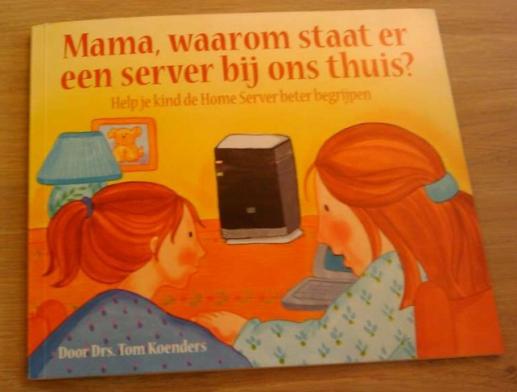 De raarste dingen komen er voorbij vliegen op het net - af en toe werp ik er een vlugge blik op en deze tweet via @life20 bleef even plakken.

"Mama, waarom staat er een server bij ons thuis?"
Help je kind de Home Server beter begrijpen

Geweldig! Die vliegt meteen op mijn kerstlijstje :-)
Hier nog 2 foto's van het boek - met dank aan @life20





Mijn kids staan er eigenlijk niet bij stil waarom er zoveel computermateriaal bij mij thuis staat te zoomen, en ik stimuleer hen zeker niet om er zelf mee bezig te zijn.
Mijn dochter van 6 heeft al wel een eigen laptop(je) om via youtube naar K3 filmpjes te kijken, maar gelukkig speelt die liever met andere dingen, en stelt vragen als "Papa, waarom moet jij altijd werken terwijl andere mensen op vakantie gaan" en zo :-)
Tags: in 't Nederlands, Lifelog
Geef je reactie (1)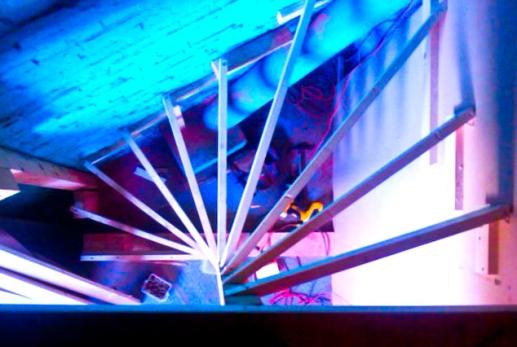 2 weken geleden dacht ik "Kom, laten we eens een wenteltrap maken naar dat duplexje hier"
Dat viel dus best tegen want dat is dus p*kkeveel werk hé!
Vooral omdat de hoek waarin het ding staat geen rechte hoek is en er onderdoor nog een schuin stuk schoorsteen loopt dat lichtjes in de weg zat.
Een interessante oefening in goniometrie, dat wel (al moet ik toegeven dat die 7de trede een paar graden uit zijn hoek staat om het te laten passen, maar kom: in dit geval heiligt het doel om boven te raken zonder je hoofd te stoten de middelen.)
De trap is klaar - het volgende is een kast in het verlengde ervan tegen de muur - jaja! - ik ben heel braaf bezig, hoor.
Tags: in 't Nederlands, Lifelog, Verbouwen
Geef je reactie (0)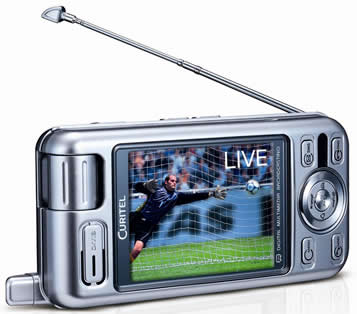 Mobistar heeft een mooie aankondiging: Mobistar lanceert mobiele tv met HD-technologie op de iPhone. Klanten betalen voor deze mobiele tv-ervaring slechts 49 cent per dag met een maximum van 1uur/etmaal.

... leuk, maar eh ... How, wacht effe! Die zin is zo fout dat even nodig heeft om door te dringen, maar het omschrijft precies wat er mis met het mobiele telecom landschap in Belgie.
De telecom operatoren EN de handset manufacturers blijven proberen om hun klanten in een wurggreep te houden om hen voor elke eurocent te kunnen uitwringen in een absolute tegenpool van een "vrije en open markt"
met HD-technologie? de TV-stream waarover het gaat is maximaal 320x480 punten - dat werd 25 jaar geleden al lage resolutie genoemd, laat staan dat het vandaag zelfs maar in de buurt komt van de minimaal 1,280x720 punten van HD - pure marketing nonsense!
het is enkel beschikbaar op iPhone, waarom? Er zijn massa's mobiele telefoons die minstens evengoed geschikt zijn om video weer te geven, het is niet meer dan je klanten vastketenen aan een bepaald merk. Stel dat Microsoft een nieuwe service lanceert die enkel werkt als je een laptop van Dell hebt ... het kot zou te klein zijn.
slechts 49 cent per dag voor maximaal 1 uur ... wauw! Vergeleken met hun vorige aanbod: 49 cent per MB voor mobiele TV lijkt dat peanuts, maar waarom zou het uitmaken voor welke inhoudelijke toepassing ik hun communicatiediensten gebruik? Als ik al voor een mobiel data-abonnement van bijvoorbeeld 2GB per maand betaal, waarom zou mijn provider dan moeten bepalen wat ik daarmee kan doen? Stel dat Telenet plotst zou zeggen dat je maar 1 uur per dag naar Youtube video's mag kijken en daar plots 49 cent per dag extra voor zou gaan vragen?
Mobistar: u bent een telecomprovider en dat doet u goed: u maakt het mogelijk dat ik met mijn gsm kan bellen en het internet kan benaderen. Ik wil graag een stevige duit betalen voor stabiel en snel mobiel internet en begrijp dat er ergens limieten moeten zijn hoeveel data ik mag verbruiken ...
Maar: moei u alstublieft niet HOE ik die dataverbinding wil gebruiken. Als ik dat voor videostreaming wil gebruiken moet ik dat toch begot zelf weten zeker?

Apple: u bent onder andere een bedrijf dat een mobiele telefoon maakt, en dat doet u goed. Maar alsjeblief zeg: Moei u niet HOE ik die telefoon wil gebruiken, als ik daar streaming video mee wil doen over 3G, waarom blokkeert u dat dan?

Ok ok, het is een beetje uitvergroot (en die "uitzending gemist" app is na wat druk van T-mobile toch toegelaten tot de Appstore) maar mijn punt is: Hardware fabrikanten moeten zich niet moeien met welke software ik kan gebruiken, en internet leveranciers moeten zich niet moeien met hoe ik het internet kan gebruiken.

Dit gezegd zijnde: uiteraard zijn er ook manieren waarop je wel gewoon "vrij" naar TV kunt kijken op je telefoon.
het doelpubliek dat dat ook effectief wil doen is waarschijnlijk ook geeky genoeg om dat zelf op te zetten:
koop een telefoon die DVB ondersteunt en je kunt volledig gratis en ongelimiteerd naar de publieke omroepen kijken
koop een Slingbox en je kunt naar alle zenders kijken die op je (analoge) kabel zitten thuis - hoe lang je kunt kijken is afhankelijk van welk data-abo je hebt.
hang een DVB ontvanger of TV-kaart aan je PC thuis en mits je de juiste poorten openzet kun je dat TV-kanaal via bijvoorbeeld VLC streamen naar eender welke ontvanger - ook naar je gsm. Volledig gratis en je hebt zelf de volledige controle over beeldkwaliteit. Het verbruikt alleen een hele kwak bandbreedte, waarvoor je uiteindelijk ook moet betalen.
Tags: Apple-bashing, in 't Nederlands, Mobile
Geef je reactie (2)
Eindelijk eens van "blog-redesigneke" gedaan.
Het laatse ontwerp stamde alweer van 5 jaar geleden en begon wat belegen te worden.

Ik ben geen goede ontwerper, ik weet namelijk nooit wanneer ik moet stoppen.
Ik begin steevast met een vastberaden idee om een simpel, elegant en effectief ontwerp te maken maar mijn voorliefde voor transparante laagjes en schaduwen kan ik zelden in bedwang houden.
Nog een geluk dat ik soms de "krullekes" achterwege kan laten, anders wordt het helemaal barok

Deze keer er wel zwaar over gegaan door een full-page video achtergrond te gebruiken met daar bovenop nog wat transparante html laagjes.
Leuk effectje dat ik nog niet vaak zag (eigenlijk nog nooit, maar het zal vast wel ergens bestaan) en wat een leuke uitdaging was in de CSS om alles op zijn plaats te houden.
Ik heb er ineens maar een thema-wisselaar bij gedaan zodat je on the fly van blog-ontwerp kunt wisselen:






Ik had nog iets in mijn hoofd om de achtergrondvideo interactief te maken met live-beelden van mijn webcam en om bezoekers dan controle te geven op wat er op mijn pictureframe verschijnt of zo, maar dat zal voor een andere keer zijn (zou anders wel een leuk barcamp demootje zijn)
Tags: Blogging
Geef je reactie (0)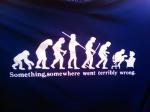 Evolution went wrong,Geweldig leuk geeky-shirt (van Peter, gezellig onder een tentje op #zva)
Geef je reactie (1)