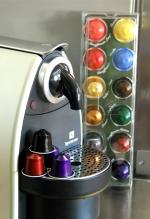 Sommige dingen kun je beter niet weten, Kennis is immers macht: Scientia potentia est
Het tegenovergestelde is ook waar: zalig zijn de armen der geest (Matheus 5.3) oftwel: Ignorance is bliss
Afin, genoeg met citaten gesmeten. Ik bedoel eigenlijk gewoon "Sommige dingen kun je beter niet weten" of zei ik dat al?
Soms denk ik bijvoorbeeld wel eens dat ik beter niet naar Barcamp Antwerpen was gegaan op 21 maart, of toch op zijn minst dat Anne (update: met dank aan Christophe) er beter niet voor had gezorgd dat er gratis Nespresso was.
Dat is namelijke ongelooflijk lekkere koffie!
Ja: het is een marketinghype, en ja: die capsules zijn duur en ja: het is een soort van koffieporno maar euh ... het is ongelooflijk lekkere koffie!
En dat wil je eigenlijk niet weten als je thuis naar je Senseo-machien zit te staren die wat gekleurde warme drap aan het produceren is ...
De gewone koffiezetter maakt ook lekkere koffie, maar dat duurt te lang en je hebt veel te veel koffie als je alleen bent.
Dat type van kennis nestelt zich dan in je geest en begint te peuteren en te kriebelen elke keer je een kop koffie drinkt (veeeeeeeel dus) en eigenlijk ook telkens je die f*cking Clooney op het scherm ziet
Uiteindelijk beginnen ook je medemensen zich bewust te worden van je stille lijden, en op een mooi moment strijken ze ze met de hand over het hart en geven ze je iets moois kado.
Tadaa! mag ik u voorstellen: mijn nieuwe Nespresso machien. Lekker man - en ik ben er superblij mee.
Volgens sommige snobs is het alweer passé en is het bij lange na geen espresso, maar wat zou het - het is ongelooflijk lekkere koffie!
Tags: in 't Nederlands, Lifelog
Geef je reactie (4)